---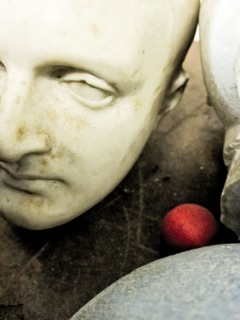 ---
Erick Hufschmid


A Muse: A Visit to the Studio of Varujan Boghosian, 2011

This portfolio of photographs were taken by Erick Hufschmid in the spring of 2011, of the studio of Varujan Boghosian (born 1926), located on the campus of Dartmouth College in Hanover, New Hampshire. The photographs are of the studio as found, that is, nothing has been arranged, altered, moved, or changed in any way, from the studio as Hufschmid encountered it. The portfolio's release is timed to coincide with the solo exhibition of Boghosian's recent collages showing in the main gallery of BigTown Gallery, Rochester, Vermont from July13, through August 21, 2011.

The photographs represent various views of Boghosian's studio as they appeared before the eye of the camera and photographer; each individual perspective taken is but one of many arresting, revealing arrangements of form, color, and context that have been selected, from the dense jungle of materials arrayed upon and nearly covering every conceivable studio surface. Hufschmid's transparent record of the working studio of Varujan Boghosian brings into sharp focus the artist's compositional brilliance—and perceptively illuminates the exacting nature of the master collagist's eye. The photographs of "A Muse: A Visit to the Studio of Varujan Boghosian," offer an unimpeded intimacy with the working process of the artist. Hufschmid documents Boghosian's fifty years of obsessive collecting and his deft reshaping of found objects.

KATHY HART
Interim Director Hood Museum of Art, June 2011

The surfaces of things speak of histories, small incursions into the lives of others. Eliot's time past and time future, what might have been and what has been point to one end, which is always present. Time's caress erodes and abrades softly or takes abruptly a limb or body—leaving behind only a doll's small shoes or the head of an artist's mannequin. Or a love letter, a keepsake. Objects, now past the age of youth, lead down a tunnel of rapidly disappearing traces of their presence, each tiny door the gateway to a moment no longer retrievable. Here are evocations of those who have gone before—children hugging dolls, playing with toy cars. Women clutching fans or assembling quilts with pearled pins.

Or an artist gathering this and that and the other—wonderful and fascinating things that make up his palette. He walks through musty smelling antique stores on the hunt, discovering the choice fragment—the remainder of play and knowledge. Then refashioning them— wood, books, prints, labels, casts, and models—into visual poetics or puns that emanate a mute emotion or a delighted smile. Just on the edge of vision, a glance takes in symmetry and a perfection of imperfection. Among all these things that are gathered here is the creative mind that chose them for his repertoire. An artistry of faded paint and objects now partnered in a conversation that continues, framed within their own new world.

CHARLES SIMIC
The Scattered Parts of the Missing Whole

Poets collect unusual words and images in hope that their proximity to each other may generate a new set of associations. Artists collect things other people have discarded or never truly noticed.

"The materials dictate what I do," Boghosian told me. The clutter in his studio has the look of a flea market or a garage sale, until one begins to notice the exquisiteness and strangeness of each individual item he has collected. Among them one finds childrens' playing blocks, hands that may have belonged to statues, pearl-headed millinery pins, door bells, old tools, store signs, ancient playing cards, and hundreds of other items once intended for other uses. They are battered, rusty, stained, weathered and peeling. One would not be surprised to encounter a scarf Isadora Duncan strangled herself with, still tied to one of the wooden wheels. A combination of accident and luck may have brought them to his studio, but now their adventure really begins. They are about to have an exciting new life in one of his constructions or collages. From a ripped and soiled industrial apron of heavy material that a welder in a factory might have used, a wooden hand sticks out of a pocket holding a small brightly-colored clarinet made of wood, while a vicious looking rattle snake hangs out of the huge rips on its side.

I have no idea if the work is finished, or if it has a name, for naming and thus bringing language and imagination into play are as important to his art as what is there. For example, a piece I saw called "A Brush with Death", consists of a black skull, you might buy in a toy store for Halloween, into whose mouth Boghosian has stuck a paint brush. As we know from many of his pieces named after heroes and heroines in Greek myths, it is the very act of naming that for him generates new and multiple meanings, enables us to see in a new way, start an inner dialogue between what we see and what we imagine, and in the process rescues a hundred year old pair of bedroom slippers and a conical party hat from oblivion.